St. John the Divine Church Southrey
<![if !vml]>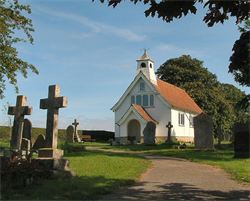 <![endif]>
The little church of St John the Divine at Southrey in Lincolnshire is far from being a typical English country church - more like something that has been transported from New England. Built by the parishioners themselves in 1898, the neat little gabled and belfried timber building was covered in PVC in 1978 to protect the original wood. Recently painted inside in sky blue and re-carpeted, the church now boasts a 5-paned stained glass window to commemorate World War 1 and the sacrifice made by the soldiers and airmen from the village during the last 100 years. Memorials linked to World War 1 within the churchyard have also been restored to their original white state.
DECEMBER SERVICES AND EVENTS
2nd     Family Service                                                               9.30 am
6th     Speakers Evening – Christmas Decorations      7.00 for 7.30 pm         
          £5.00 entrance to include refreshments
          Raffle on the night
9th     Christingle Service                                                        3.00 pm
13th    Knit and Natter Christmas Lunch
16th    Service of Thanksgiving                                                9.30 am
21st    Carol Singing around the village                       4.00 pm-7.00 pm
23rd    Christmas Journey                                                                  9.30 am
25th    Christmas Morning Service                                           9.30 am
30th   NO SERVICE
JANUARY 2019 SERVICES AND EVENTS
THIS IS THE START OF THE NEW SERVICE ROTA
6th     NO SERVICE
13th    Communion Service                                                      9.30 am
20th   NO SERVICE
27th    Family Service                                                               9.30 am
FEBRUARY SERVICES AND EVENTS
3rd     NO SERVICE
10th    Communion Service                                                      9.30 am
17th   NO SERVICE
24th    Family Service                                                               9.30 am
Refreshments served after most services
WEEKLY EVENT
Craft, Coffee (and Tea), Cake and Chatter meeting in the church Thursdays: 2.00 pm to 4.00 pm
Do you sometimes wish you could just sit and chatter to someone while sharing a good old fashioned cuppa, or maybe sharing your skills of crocheting, card making, knitting, quilting etc with others? Well, on Thursdays between 2.00 pm and 4.00 pm in St John's church you have a chance to do just that. We have a new activity in the village - so why not come along? Bring and share with us any of the above skills.
<![if !vml]>

<![endif]><![if !vml]>

<![endif]><![if !vml]>

<![endif]><![if !vml]>

<![endif]>
<![if !vml]>

<![endif]><![if !vml]>

<![endif]><![if !vml]>

<![endif]><![if !vml]>

<![endif]>
<![if !vml]>

<![endif]>